Empower Your Team Through Comprehensive Training Programs
Elevate Skills, Boost Productivity, and Transform Learning Experiences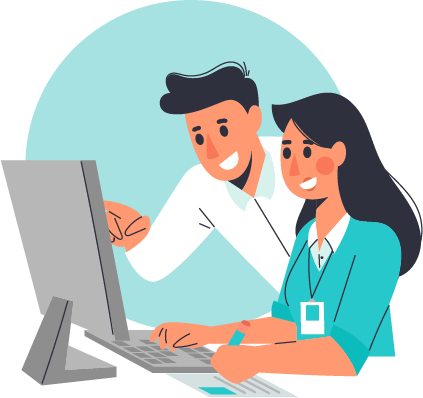 We bring a wealth of hands-on experience in the e-learning industry and offer top-tier training services.
The training covers the following:
Introduction to E-Learning
Basics of e-learning, its benefits, and its importance in modern education and corporate training
E-Learning Design Principles
Instructional design methodologies and best practices for creating engaging and effective e-learning courses
Articulate Storyline Basics
A comprehensive overview of Articulate Storyline, including its interface, functionalities, and how to start building interactive courses
Multimedia Integration
Incorporating multimedia elements (images, audio, video) into e-learning content to enhance engagement and learning
Interactive Course Development
Designing interactive e-learning modules, including quizzes, assessments, and branching scenarios
Mobile-Friendly E-Learning
Adapting e-learning content for mobile devices and ensuring a responsive design
Assessment and Evaluation
Creating effective assessments, quizzes, and surveys within e-learning courses to measure learning outcomes
Gamification in E-Learning
Using gamified elements to make e-learning more engaging and motivating for learners
Scenario-Based Learning
Designing scenarios that simulate real-life situations, encouraging critical thinking and problem-solving skills
Accessibility and Inclusivity
Ensuring that e-learning content is accessible to all, including learners with disabilities
LMS Integration
How to integrate and deploy e-learning courses on learning management systems (LMSs) like SAP SuccessFactors, Blackboard, or your preferred platform
Content Authoring Tools Comparison
A comparison of different e-learning authoring tools, including Articulate Storyline, Adobe Captivate, and others
Advanced Articulate Storyline Features
In-depth exploration of advanced features within Articulate Storyline, such as variables, triggers, and JavaScript integration
E-Learning Project Management
Project management strategies for developing e-learning courses efficiently and within budget
E-Learning Trends and Future
Staying updated on current e-learning trends and what the future holds for the e-learning industry
Content Localization and Internationalization
Adapting e-learning content for different languages and cultures
Case Studies and Examples
Analyzing successful e-learning case studies and real-world examples for inspiration and best practices
E-Learning Compliance and Regulations
Understanding regulatory requirements for e-learning content in specific industries, such as healthcare or finance
E-Learning Marketing and Promotion
Strategies for promoting and marketing e-learning courses to a target audience
E-Learning Quality Assurance
Ensuring the quality and effectiveness of e-learning content through testing and feedback mechanisms
These topics provide a comprehensive overview of what you can cover in your e-learning and Articulate training programs. You can tailor your training content to meet the specific needs and goals of your audience and clients.
Background of our Tutors
At Cogito Solutions Limited, our team of dedicated e-learning tutors is at the heart of our mission to deliver high-quality online education. With a diverse range of backgrounds, expertise, and experience, our e-learning tutors collectively bring a wealth of knowledge to the world of online learning.
Our tutors are passionate about the transformative power of e-learning and are committed to helping learners achieve their educational goals. Whether you're new to online education or looking to advance your skills, our team is here to guide and support you every step of the way.
Key highlights of our e-learning tutors include:
Extensive Experience: Our tutors have extensive practical experience in e-learning, spanning various industries and disciplines.
Pedagogical Expertise: They possess a deep understanding of instructional design principles, ensuring that our courses are effective and engaging.
Innovation: Our tutors stay up-to-date with the latest trends and technologies in e-learning, providing learners with cutting-edge knowledge.
Sound Practicality: Our tutors excel in turning scripts into interactive courses, translating theoretical concepts into real-world, hands-on learning experiences.
Learner-Centric Approach: They are dedicated to creating learner-centered experiences, tailoring instruction to meet the unique needs of each student.
Support and Mentorship: Our tutors offer guidance, support, and mentorship to empower learners on their educational journey.
Passion for Education: Education is not just a job for our tutors; it's their passion. They are driven by a desire to help you succeed.
Whether you're looking to acquire new skills, advance your career, or explore new horizons, our e-learning tutors are here to facilitate your growth and development. Join us on a journey of discovery and learning with a team of experts who are dedicated to your success.